Patient Testimonials
I frequently see people who have chronic pain or serious health problems that know very little about Traditional Chinese Medicine and Acupuncture. Many times these people have tried everything they can think of to get better with no success. They may feel depressed and hopeless and very often end up believing that nothing can help them.
The succeeding video and paragraphs are testimonials from patients who would like to give you the confidence needed to get started on your path to healing. Visit my Yelp page – link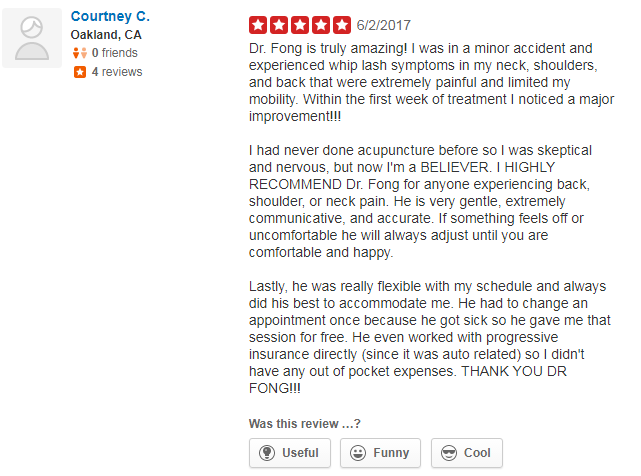 and on this link to view reviews posted on google plus. All original testimonials are available upon request:
Noah – 39 Years Old – Chronic Neck Pain. Recorded on 7/3/2013.
[youtube]http://www.youtube.com/watch?v=Ch2C4V-AxVQ[/youtube]
"My name is Dan Cunanan. I came to Ryan Fong's Acupuncture in Pasadena on May 25th, 2012 to see Ryan Fong, because I was suffering from a torn meniscus and oseteoarthritis. I had this problem for 5 months. This problem gives me excruciating pain in the knee. It also caused fatigue, difficulty sleeping, and made it difficult for me to do daily, routine activities especially walking exercises. I began to feel some improvement in my condition after the 5th treatment. At this point in time, my condition feels 60% better. I now feel less pain and less swelling and I am able to bare weight on my affected knee. I have also had significant improvement in other symptoms like: bending or squatting. During the treatments, I felt confident with Ryan's expertise and appreciated how he thoroughly explainded steps of what he was going to do and with the procedure taking place. Ryan also answered all my questions and concerns. The clinic is welcoming and clean and the staff is friendly. I would recommend acupuncture to anyone for pain management because there are no adverse side effects and it get's a quicker result."
"My name is Paulette Hunnewell. I came to Ryan Fong's Acupuncture in Pasadena to see Ryan Fong, because I was suffering from a very painful right wrist that I broke and had extensive surgery at the end of December 2011. My right shoulder was also painful and I was depressed. I had this problem for months. My pain was chronic, disrupted my sleep, and made me fatigued. I was not myself. I felt out of balanced. It also caused fatigue, difficulty sleeping, depression, irritability, and made it difficult for me to focus on my work. I began to feel significant improvements in my condition after 1 treatment. At this point in time my condition feels 80% better. I now feel back to myself and I am able to focus on my work and enjoy myself. I have also significant improvement in other symptoms like my energy level has increased and my overall mood has become much more positive. During the treatments, I felt very relaxed. The clinic is great and the staff is wonderful. I would recommend acupuncture to anyone who has pain because it works and there are NO drugs involved. During and after the first treatment, I achieved relaxation that I had NOT had since my surgery."
"My name is Laura G. I came to Cohen Chiropractic Center on 3/1/2012 to see Ryan Fong, because I was suffering from gastric reflux and chronic pain in my shoulder. I had the gastric reflux problem for 1 year and the chronic pain in my shoulder for many years. The reflux problem began when I went off gluten. It got worse, until a year later, last March, it was debilitating and constant. The shoulder pain had defied many types of therapy, including yoga, chiropractic, and massage for years. It also caused, fatigue, difficulty sleeping, depression, irritability, and made it difficult for me to eat and use my right arm. The reflux made it difficult to lie down, and the only time the shoulder did not hurt was when I was lying down. I began to feel significant improvements in my condition after one treatment for the gastric reflux and three treatments for the chronic shoulder problem. At this point in time my condition feels 90% better. I now feel much less pain and I am able to eat, sleep, and use my right arm. I have also had significant improvement in other symptoms like my skin is getting clearer and I feel less stressed. During the treatments, I felt relaxed and safe. The clinic is clean and attractive and the staff is friendly. I would recommend acupuncture to everyone because it can fix chronic problems. After over 15 years of chronic shoulder pain, this is nothing short of a miracle."
"To Ryan,
Just a Short note to Thank you for The Relief I Have felt after your Treatment of acupuncture on my knee. The Pain has Gone and I no Longer Limp. Both my wife and I will follow up This Treatment when we Return to Melbourne.
Thank you and Kind Regards,
Stephen Simpson"
"Dear Ryan,
Yesterday I attended your Seminar with my husband who had a knee injury and was very Interested in Acupuncture. I was Not as I had always said Nobody is putting all Those needes in me! As I Did Not THink That it would make any difference To The Depression and Stress I had felt for years. So I Gave it a Go. I was Wrong! For The first Time in Years I Slept from 10 PM to 7-30AM and I feel Great. When I Return To Melbourne I will follow This up. Thank you so much Ryan for The Peace I feel.
Lynette Simpson"
"Prior to my operation, I thought acupuncture was a chinese myth. But first my story, I had a knee replacement and 10 months later my knee seemed to lock up at night so I had to exercise it to release it. Now while on a cruise on Dawn Princess I was coersed to visit Ryan Fong's rooms and after two sessions of acupuncture I have begun to feel freedom coming back slowly and I am beginning to walk down stairs gradually forward, and I am now a believer in the Chinese Myth of Acupuncture.
Fred Butterfield"
"I have found acupuncture to relieve the pain of osteoarthritis and to remove the stiffness and enable me to be mobile again.
Jean Thomson"
"Ryan has shown me that acupuncture should be used as a first treatment not as an "alternative therapy". I feel greatly better than I have before and Ryan himself was calm, considerate and professional and an excellent "first timer's" practitioner. I strongly recommend both Ryan and his treatments. Cheers.
Mrs. Lawty"
"Several years ago I had surgery to repair a tendon in my ankle. Walking, dancing and high heel shoes created intense pain in my ankle and knee. Several days after boarding the Dawn Princess I had serious problems – ankles swollen, pain and discomfort to my ankle and knee. I could not sleep. I went to Lotus Spa and had my first treatment with Ryan Fong. Instant relief. No pain or swelling. After several treatments I feel fantastic. I am seriously recommending to all passengers – don't suffer- go to Ryan and discuss your ailment and the treatment with acupuncture. After 20 years of pain and suffering I feel fabulous. I have also lost weight after indulging in the fantastic food and cuisine. Acupuncture also has additional benefits. Thank you Ryan you are seriously good.
Roslyn Biffin Afaim"
"After suffering severe pain in my shoulder for 20 years, I have no pain at all since Ryan Fong treated me with acupuncture. My grateful thanks as I now can lift my arms without pain. As a result of this I have recommended Ryan to friends on board "Dawn Princess" – they have all had relief from pain.
Bill"
"Having experienced chiropractic and pysiotherapy for many years which helped; My diagnosed condition of Paget's Disease has caused me to be somewhat stooped and quite often in severe pain. Conventional medicine consisting of drugs, with known side effects or surgery, was simply not an option. Acupuncture had not been recomended but I was prepared to give it a go after attending a lecture on back pain with Ryan Fong.
What a transformation after one treatment so I then booked in for an additional four follow up visits, my posture has greatly improved and it has given me far greater mobility – and the pain relief!
Despite tha fact that I couldn't talk Ryan into taking up residency in Perth, Western Australia, It is my express wish that I am able to find someone with the talents of Ryan to continue with acupuncture treatment.
Thank you so much for giving me new hope.
Les Della"
"This was my first introduction to Acupuncture. I had very bad phlegm on my chest and have to say after treatment it is 90% clear. I also have breathing problems due to asthma and have found that much improved.
Many thanks Ryan."
-Maurice Bailey
"Having come on board with an injury, Ryan was able not only relieve my pain, but gave me more energy and help me sleep better. Later in the cruise I developed a cold, and after another treatment, my sinuses were clear and I stopped sneezing. His quiet manner and knowledge of his craft gave me confidence in his abilities and we will be seeing further acupuncture when we get home."
-Anthony Reid
"Being very skeptical about needles, I approached this treatment with some fear and trepidation, Ryan was quietly confident and gave me the trust I needed in a professional to give it a go.
Not only did he relieve chronic back pain but also relieved seasickness. I would recommend this treatment as it has made my cruise more enjoyable."
-Mary Reid
"A positive one; I strained a round my knee doing the stairs. I found you very pleasant in your profession. Within 24 hours of acupuncture I had no pain or soreness, and no problem since.
Thank you again Ryan."
-Jackie Graham
"I am a cray fisherman in Bass Strait. I often experience hip and back pain, after having treatments with Ryan my hip and back pain is totally gone and I feel like I am standing up errect instead (of) being hunched over. I recommend acupuncture to anyone with back pain or other problems."
-Matthew Harris
"My cruise was being ruined by a very painful left foot, lower left leg and pins and needles in my ten toes. I couldn't walk for very long. I went along to a seminar – Natural Solutions to back pain given by Ryan Fong.
I related well to his informations as I have had a bad back for the past forty years.
I had three sessions of acupuncture after the first two I could walk free of pain so I had a third session. The results were great for me and I'll be going home to play lawn bowls once again."
-Shirley Rushton
"My husband and I booked a 35 day cruise to the Pacific Islands. We were both very surprised to see that a qualified acupuncturist was on board. As I suffered from motion sickness and vertigo and much prefer natural medicines I decided to book a 1 hour session. Ryan placed 18 needles in various parts of my body including my head. Ryan then left me to relax and for the needles to work.
After 1 hour feeling relaxed with a towel impregnated with lavender oil across my eyes and beautiful relaxing music it was time to take out the needles. There was no pain felt despite 18 needles including the large ones in my head. I felt very relaxed, the vertigo and motion sickness was gone after the one treatment. Ryan certainly knows his profession and is very skilled in acupuncture – makes you feel very confident in his care. I have been to all his lectures and even spoke on the microphone telling people of my experience while on the ship having had an appointment with Ryan for my vertigo/motion sickness and see the result.
The treatment was very successful, my balance improved significantly and my motion sickness was gone and I felt very relaxed. Ryan certainly knows all about the natural healing process and I thank him very much for these results and his very important lectures."
-June Burne
"I have been receiving acupuncture for many years so am aware of its benefits. Ryan treated me three times during my recent cruise on Dawn Princess. The treatment was for internal problems, arthritis, and stress. He was successful on all counts and I was grateful for his expertise in this field of health care. I highly recommend him as a very proficient acupuncturist."
– Lesla Saraghi
"Ryan Fong in an excellent therapist he was firstly very enthusiastic and considerate in treating me. This course of treatments has been the best one of all other treatments I have experienced, I am now able to feel rested and able to rise in the morning without much effort.
I would recommend Ryan to any future employer and patient as a well mannered and expert in his field."
-Mrs. Jacob
"I went to Ryan with severe back pain due to a pulled muscle plus pain in my right jaw after a fall 6 weeks previously. After 3 treatments on my back the pain has gone completey and after one treatment on my jaw the pain has also recovered completely."
-Robert
"I was extremely pleased with Ryan he listened and the acupuncture was a very pleasant experience. I was so relaxed I went to sleep It certainly has helped with shoulder problem I have had for some time and I am sleeping better at night. I will be having more acupuncture when I go home. Thank you."
-Noela Macleod
"Had never though about acupuncture until having listened to Ryan's lecture. I have arthritis in my lower back and both hips and after the second course of the needle, I now feel very little pain in the said areas.
After the third final course of needles, my back is pain free. I also had very annoying "restless sleep". I don't anymore. Thank you Ryan for the relief."
– Margaret Newell
"After three stress free treatments with Ryan I feel terrific! "
– Sheila Ginsberg
"Dear Ryan
I came to you with severe pain in my back and left leg also pain associated with shingles. I was not coping with the amount of pain I had but after 3 treatments I was able to be pain free and enjoying the rest of my holiday. I am very grateful to you and for your help. Thank you."
-Jenny Sharp
"Ryan thank you for your effort. My neck responded well after your treatment. My shoulder is better but not 100%.
Again Thank you Ryan. I am pleased I gave acupuncture a go."
-P. R. Sharp
"Dear Ryan,
Your treatment helped me enough to get moving enough to help myself by having spa's and exercise in the pool. I am going up and down the stairs well and have enjoyed my tours pain free.
Sincerely,
Ruth Rossettin"
"This was my first acupuncture course. It has made a big difference in my mobility."
-Philip Newman
"I suffer from a frozen shoulder. Since seeing Ryan I have improvement in range of movement of this shoulder."
– Brett Lopez
"This was my first experience of acupuncture. I was apprehensive but willing to give it a try on my knee and for general well being.
Three sessions whereby the first two did not assist in eliminating pain in my right knee. The third session I was able to indicate an area to be punctured which worked. I have had a trouble free knee during the last three to four weeks. Thank you Ryan."
-Murray McNally
"Ryan, I can't thank you enough for helping me get over my sea sickness. Your caring attitude and attention to detail makes you a master of your craft. I highly recommend your services to anyone who is suffering from any pain or ailment. Best wishes to you in your future endevours."
-Adam Sinclair
"A very postive experience with Ryan's acupuncture as a first time patient of acupuncture. I was very unsure of what to expect. I experienced a great deal of relief from pain caused by a heel spur which enabled me to enjoy my on shore excursions almost pain free. I look forward to going on to locate another person as accomplished as Ryan on my return home.
– Lee Mutsaers
"As I have had acupuncture I know how good it is. However, I must express my appreciate to Ryan who was very patient in answering questions of how acupuncture would help me with weight loss. I was not pressured to anything and his kind-gentle and understanding manner made me feel very relaxed while in his care. As I cruise frequently I will always look to have acupuncture each time."
-V. Bartholdt
"Long ago I had acupuncture for migraine headaches and this helped for a long time. Now with tennis elbow each morning they ache. Since the treatment only a little pain on some mornings. Very well having this on the ship so I could try to see if it would help. I will now do this in Melborne again. Thank you so much."
-Carlyne Armstrong
"Ryan, thank you so much for your care. The experience with acupuncture was good. The way you explained each needle and move you made was very reassuring. The back has improved enough for me to move about the ship with resting when pains returned. I will see my GP and surgeon on return and your report will be a great help to them. Thank you."
– David Coventry
After attending a chiropractor for a number of years with neck and shoulder pain I decided to try acupuncture while on board "Dawn Princess", after only three treatments, pain in my neck and shoulders had gone. But still have considerable pain in my ankles due to arthritis."
Thank you Ryan."
-Barbara Green
"Dear Ryan Fong,
I've really enjoyed your talk and advice regarding my knee/backache. I felt really good after your treatment this being my third acupuncture treatment and I will continue with it when I return home to Melbourne. When we discussed Chinese (traditional) and our ususal medicines available to us from our doctors I mentioned a doctor surgeon Chris O' Brien. The book he wrote is available on the shop on deck 5. It is called "Never say Die". It is really all about his life but he does mention that we really need to have to look at the "two" medicines.
We can all learn far more aout the benefits about traditional medicines. Many thanks."
-Elisabeth Winkel
"As this was my first acupuncture experience, I was naturally a little apprehensive. However , it was painless, and not even uncomfortable. I had nasal congestion from a cold, which after acupuncture cleared up quickly and completely. I also found my energy levels improved straight away, as I have Chronic Fatigue Syndrome. Thank you for making my cruise experience even better."
-Mrs. Riley
"Ryan,
Your gentle professional manner and obvious skills have been greatly appreciated and I have real hope for ongoing further improvement when we go home. It is a real shame that I did not realize until nearly the end of our cruise that acupuncture could offer beneficial treatment for IBS and I am very glad I spoke to you.
Sincerely,
Jane Croft"
"I thoroughly enjoyed and was facinated by the procedure. I am beginning to feel improvement.
Ryan is very professional and passionate about what he is doing. He makes you believe before you begin treatment that he will impprove things for you. I wish I had discovered this earlier in the cruise."
– Mrs. Wray
"Ryan has been very informative in explaining what he is doing and what he hopes to achieve. I have very bad arthritic knee joints. I have been informed by my doctor that I need knee replacements. When I came on this Holiday, I didn't think I would be able to do a lot because of the pain in my knees. I started the first acupuncture with Ryan the first couple of days and had pain relief immediately. I would recommend everyone with any problems to see ryan ASAP to be able to enjoy their holiday much more."
-Paulleen Astill
"Thank you for the opportunity Ryan of expressing my appreciation of your services. Acupuncture on the Dawn Princess assisted me greatly in speeding up the healing process necessary for better enjoyment of the holiday aboard.
I feel rejuvinated, refreshed more motivated now to move on. Thank you Ryan, Lotus Spa and hope you are here for myself and many others who would benefit from acupuncture as part of their holistic care as I have. Bye for now."
-Denise Pierce
"Had pain in lower back radiating down leg unable to do stairs and felt I would be inhibited during the holidays. Had acupuncture thrice during the 35 days. Could do most activities and on shore excursions. Many thanks to Ryan and his treatment."
– Julie John
"I am sure acupuncture has helped my Sciatica which has been chronic for some years. I have found Ryan to be thoughtful, gentle and caring. I wish him well in the future."
– Jean Newman
"Attended an information session with Ryan found his information and approach reassuring. One on one discussion – decided to have three treatments. Ryan's ability to assure plus explain each step in the treatment enabled me to comfortably cope with this new approach to pain management. The swelling in my wrist has noticeably improved as we proceeded and after the third treatment had me pain free in that area. My knee would need further treatment and I shall continue when the time is right to source a person to do this in Australia. The cruise situation was for me the ideal location to have this treatment as a further enhancement of the natural nutrients I use. Thank you Ryan for your gentle expertise!"
– Dolores Reid
"Having been sea sick, I was recommended to have acupuncture. Ryan had used acupuncture on me and I felt much better and I did not have sea sickness after the procedure. Thank you very much.
-Helena Wood
"I suffer from severe osteoarthritis. My body can not tolerate any NSAID because I am allergic to them, therefore I thought I would try acupuncture. I found it an interesting painless procedure. Dr. Fong is very pleasant and efficient. The acupuncture was 90% successful for my hands and feet. However I still experience 50% knee pain."
-Mrs. Owen
"Thank you Ryan for the acupuncture I had from you whilst on the Dawn Princess. I was in considerable pain and your treatments have eased the pain to quite a lesser degree. Bursitis is very painful but yesterday I was walking better and for a short time walked without the aid of my stick."
-Jane Mullins
"I was introduced to acupuncture by Ryan through a seminar I attended and heard him speak on the benefits of acupuncture for the immune system. I had recently been diagnosed with a blood disorder affecting my immune system and was instantly interested. I previously thought acupuncture was for pain relief mainly, so was delighted to find the benefits I received for my condition."
–Elizabeth Soderstrom
"We are extremely happy with the results of shoulder, neck, hip and back."
– Edwin and Aileen Schneider